Smarter, Faster, quicker payments with Foloosi
Foloosi suits business of any size. Get Foloosi accepted in your online store, offices, restaurants and more. Also it can be customizable to fit your needs and thus grow your business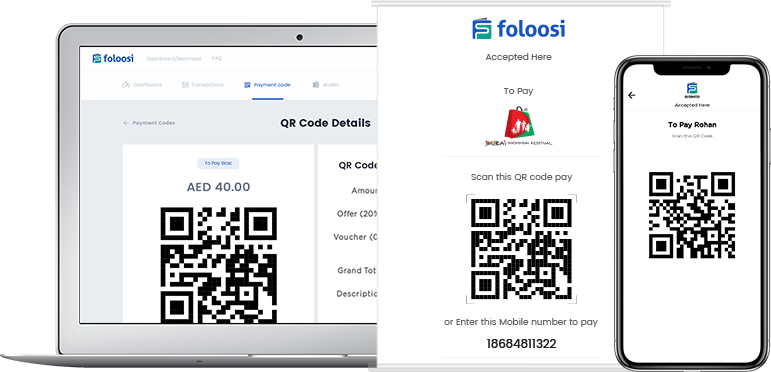 Why should you use foloosi for your business?
Experience easier, cheaper, more secure transactions.
Scan and Pay
Receive payments within few seconds through QR scanner
Increase Revenew
Enhance your sales and encourage repeated customers by offering special reward programs
Fraud Prevention
We help businesses detect and prevent fraudulent transactions

Manage Business
Provides a complete solution to manage your business efficiently
Merchant Dashboard
Entire control and insight of your business routine
Our dashboard helps you with…
Perceive how your business is getting along regarding income
See which items are moving superior to other people
Welcome your workers to acknowledge payment for you
Connect with your clients to offer rewards etc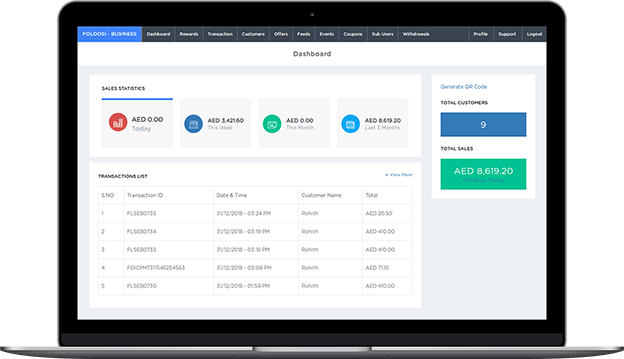 Across all business types
Retails Stores
Supermarket
Grocery Market
Fish Market
Electronics
Fashion
Delivery & Pickup
Grocery Delivery
Food Delivery
Laundry Services
Ecommerce Delivery
Cash on Delivery
Transport
Taxi Booking
Bus Booking
Parking Tickets
Tollgate
Metro
Bill Payments
Mobile Recharge
Landline
Water
Electricity
DTH
"The right payment platform with innovative technology which is robust, scalable, fast & easy to integrate "
Anonymous
UAE