Make your life easier
Mobile payment and order ahead with restaurants or coffee shops near you with just your mobile phone.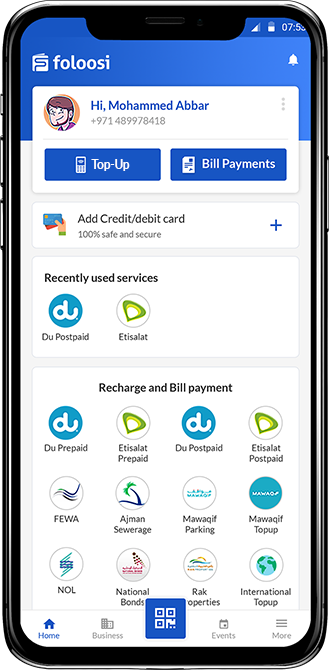 A smarter foloosi, for your business
foloosi merchant solution helps your business grow by making the sales process simple, secure and easy for you and your customers.
Learn More

Why should I use foloosi app?
Getting started with foloosi is Free and Easy.

Rewards Points
Earn reward points for each recharge, bill payment, payment to merchant etc

Offers Nearby
Top deals & offers nearby will be listed hence you can choose the best offer before making a payment

Card Usage
A summary of card usage details (amount spent)- analytical report of card transaction will be listed
Secure Transaction
We provide secure transactions in terms of confidentiality, integrity, availability, authenticity
Supporting Partners
We are pleased to be part of the technology and innovation startup centres supporting innovation and entrepreneurship. This is a great achievement for our startup to accomplish this milestone and we look towards exploring every opportunity to facilitate our success.