Make your life easier
Makes users complete their daily transaction in a simple, secure way and never limit payment options.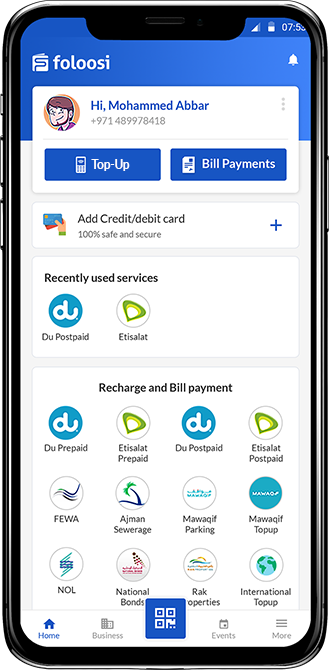 Do more with Marketplace in UAE
Make a smarter decision, upgrade your business in UAE and give it the advantage of Foloosi
Choose Foloosi for your business in UAE
Get reports on the performance of your business, with an in-depth analysis of your business transactions
Instant Activation
Get activated and transact within 2 minutes. Completely online on boarding with minimum documentation.

Easy Integration
With plugins for all major platforms and languages, integrate and go live with Foloosi in less than an hour.
Simple Pricing in UAE
Our innovative payment solutions with competitive pricing and no setup fee and annual fees.

Instant Notifications
Business app will get instant notification once payment is completed successfully.

Business Insights
Powerful dashboard in UAE to view payment received, bank settlements and more
Fast settlements
Get your money in your bank account when you want - 7 business days after successful payment. *T&C apply
Secure Payments in UAE
Anti-Fraud Technology to keep you safe PCI-DSS compliant with 128-bit encryption
Best in Support
Always available email, phone and chat based support to help you in your every step.
Join the hunders of businesses using Foloosi


What our clients say about us

Promising technological innovation.
Foloosi is a promising technological innovation which solves a teething problem of processing payments.We are excited to be part of Foloosi new tech innovation.
Infinity Global Solutions
Director